COURSE: First Peter Three-One Still Alive
Even during these unsettling times, God is still at work, building His Church by His Spirit.

First Peter Three-One Still Alive ( Married Women Only)
LOCATION:
Online/Virtual Learning
DATES: (Saturdayss: October 21, 28, November 4, 11, 18 and December 2, 2023)
COST: FREE
TIME: 10:00 am to 11:30 am
INSTRUCTOR: Minister Dorothy Sherrill
REQUIRED BOOK(S)/ MATERIALS:
Once enrolled, you will be provided with instructions for the required course material.

A computer and access to the Internet

The Holy Bible
COURSE OVERVIEW:
This study uses the scriptural framework of love to show how to love your spouse into the kingdom without compromising your faith. Also, practical ways that women have dealt with their greatest difficulties will be the focus of this study.
OVERVIEW:
Being A Suitable Helper

Being A First-Peter-Three Partner

Portrait of A Marriage

Hurts, Heartaches, and Hinderances

Shouldering Spiritual Responsibility
COURSE APPROACH/DESIGN:
This course is informal. This online instructional method for this course will be comprised of collaborative learning, contextual and active discussion, minimum lecture, project-based, self-directed, and mentorship. In this particular course, the testing methods (formative and summative) designed by the instructor will be administered accordingly. Self-assessment will be given throughout the course via feedback and group discussions.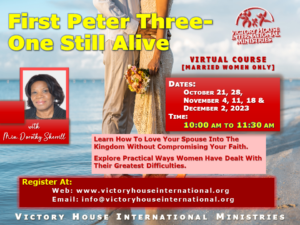 To register, fill out the form below:
Email or call us for more information: info@victoryhouseinternational.org / 610.662.0262.
COME, WORSHIP THE LORD WITH US, AND BE BLESSED!
Your ministry donations will help support VHIM's core mission to further advance the Kingdom of God by training and equipping the Body of Christ, and will aid in supporting missions outreach work.
OR
MAIL YOUR DONATION TO: VHIM, Inc.
1 Union Avenue #873
Bala Cynwyd, PA 19004