W.O.V.E.N GATHERING @ SANDY COVE MINISTRIES
RESCHEDULED DATE:
APRIL 29- MAY 1, 2022
~"I praise you, for I am fearfully and wonderfully made. Wonderful are your works; my soul knows it very well."~

W.

O.

V.

E.

N.

Ministry
WORTHY WOMEN, do not miss out on the 2021 W.O.V.E.N Gathering! You will be refreshed, empowered, transformed, and overflowing with God's peace, love, and joy in the Holy Spirit!
W

O

V

E

N
is specifically designed to allow women of all ages and backgrounds to be free in the presence of HOLY SPIRIT. Therefore, we set the atmosphere specifically for women to experience "Another Encounter WITH GOD" that will bring change from deep within transforming them into the woman GOD has designed initially and called.
We have added and will continue the Hannah Women component, which is specifically designed to minister to our millennial sisters in Christ. We are super excited about this component of the ministry. We are witnessing transformations and miracles in the life of these younger women of God. We continually pray for God's divine favor and the overflow of blessings in their lives.
Come, experience soul cleansing, transformation, a deeper desire for God, deeper worship, sensitivity to the Spirit of God, and joy, joy, joy in His presence.
REGISTER BELOW!
WE CORDIALLY INVITE YOU TO JOIN US AS WE

"GO DEEPER, WIDER, YET STILL IN GOD'S PRESENCE."
An "encounter" in God's presence:
Address questions you did not realize needed answers.

Identify and confront your deep inner heart issues.

Cause you to worship the Lord in Spirit and in truth.

Cause you to fall deeper in love with Jesus.

Cause you to remain still in His presence.

Send you out prepared to tell others about Jesus.
Our role is to gather for fellowship and equip you to do great things for God. Invite a friend who can use this time basking in God's presence.
Theme Scripture: "I will not let you go unless you bless me." – Gen. 32:26

* GENERAL INFORMATION:
2 Nights/ Deluxe Hotel-Style (3 per room) in the Chesapeake Lodge,
5 Buffet Meals,
Private Bath,
Handicap accessible rooms available,
Daily Modified Housekeeping Service Provided,
Prayer & Group Meeting Sessions,
Affordable Payment Installments
Round-trip Bus Transportation: $50pp (TO BE DETERMINED BASED ON NUMBER OF ATTENDEES)
(Reservation with a deposit IS REQUIRED.
Space is limited and offered on a first-come, first-served basis.)
_________________________________________________________________
W.O.V.E.N HIGHLIGHT SCHEDULE:
FRIDAY NIGHT – WORSHIP & MINISTRY SESSIONS

SATURDAY MORNING – SEMINARS

SATURDAY AFTERNOON & NIGHT – BREAKOUT SESSIONS:

SUNDAY MORNING – SERVICE

WATER BAPTISM FOR INDIVIDUALS (Prerequisite: Water Baptism Class)
W.O.V.E.N Gathering Includes:
Morning Prayer +
Praise & Worship via Song and Dance +
Anointed Speakers and Presenters + B
reakfast + Lunch & Dinner +
Personal Ministry Time +
One-on-One or Small Groups Ministry Prayer +
Unique Session for Hannah Women
Optional Recreation: [Basketball, pool, volleyball, billiards, ping-pong, air hockey, rock climbing wall (additional fee), miniature golf, shuffleboard, sports fields, disc-golf, walking paths, trails, etc.]
____________________________________________________________________
DETAILS:
COST: $255 includes a $50 non-refundable, non-transferrable deposit.
TRANSPORTATION MAY BE AVAILABLE BASED UPON THE NEED:

Mini Limousine Bus from Chestnut Hill (Philadelphia) to Sandy Cove Ministries for an additional $50 cost. Seating capacity is limited to 21 passengers.
W.O.V.E.N EXTENDED STAY:

Good news! You can add THURSDAY to your stay through the Group registration. The cost is $50, which includes Friday morning breakfast.
PAYMENT PLAN:

(Optional) Split your payments into four affordable installments. (See website for details).
CANCELING REGISTRATION:

You will receive a refund minus a $50 initial deposit fee (per canceled registration) after the Gathering if notice is provided by January 15, 2022. Cancellations received or postmarked after January 15, 2022, are non-refundable. (Exception: WOVEN will consider a refund for documented emergencies, accordingly.)
________________________________________________________________
* FINAL PAYMENT DUE BY FEBRUARY 28, 2022.
Space is limited and offered on a first-come, first-served basis.

If you plan on going, we request that you secure your room with a $50 deposit soon.

An initial deposit with your reservation IS REQUIRED.
FINAL PAYMENT DUE BY FEBRYARY 28, 2022
(If space is available, late registration will be accepted after February 28, 2022). The cost after February 28, 2022, will be $290.
If you are interested in going, please secure your room with a $50 deposit.)
WOVEN Gatherings
WOMEN OF VICTORY EMPOWERMENT NETWORK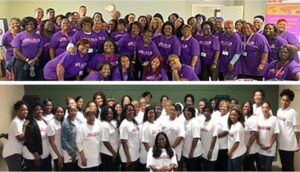 Min. Gail Faulkner, Director/Leader
VHIM & WOVEN MINISTRIES TEAM OF VOLUNTEERS
Min. Serena Austin

Andrea Barnes

Ernestine Brown

Min. Shirley Brownlee

Grace Carrington

Jenette Coplin

Cynthia Green

Chevelle Hutchins

Ziza Mitchell

Min. Magna Sutherland

Doxa Zannou

Stephanie Zeigler
W.

O.

V.

E.

N
.
(Women of Victory Empowerment Network)
We invite you to join us as we worship and serve the Lord.

You know you are valuable and of great worth.

God has NOT given up on you.

The transforming work of Christ through the Holy Spirit's working in you WILL make you a new creation.

God has an original design and a pattern—YOU!

A WOVEN Mission

Winning women to Christ is limitless!

WOVEN love to share the love and grace of Jesus Christ with other women.

We believe in women reaching out to other women to help them embrace the victorious life in Christ.

WOVEN seeks to empower, strengthen, and encourage women to reach their full potential in God by helping them gain knowledge and understanding of their original design pattern.

WOVEN provides opportunities for women to identify and use their unique, God-given gifts for harvesting other women for God's kingdom.

GOALS

Bring others to Christ. (Matt. 5:14-16)

Create opportunities where women can minister to women and young women in different facets of their lives. (1John 3:16-18; Gal 6:2; Titus 2:3-5)

Establish a place of peace for women to gather from their busy lives, have quiet time with God, or engage in fellowship with other women believers. (Philippians 2:1-4; Hebrews 10:24)

Help women begin, maintain, and grow in a relationship with the Lord through a practical prayer life. (Col. 1:9-12)

Help women find their niche, discover, develop, and use their God-given talents. (Romans 12:4-8; 1 Peter 4:8-11)

Strengthen families. (Deut. 6:4-7) • Help women conquer spiritual battles. (2 Cor. 1:3-4)

OBJECTIVES

Have monthly meetings to study, pray, share God's word, and organize and develop ministry events.

Provide literature, guest speakers, Bible classes, and gatherings to help women grow spiritually and increase their understanding of health issues that affect their mind, body, and spirit.

Create a place for women to gather from their busy lives to engage in fellowship and worship, and praise God.

Help women establish and maintain a practical prayer life by offering workshops, literature, and participating in intercessory prayer sessions.

Have an annual WOVEN women's spiritual gatherings and or fellowship with other women's groups in the Body of Christ.

Provide opportunities for women to use their gifts to help win other women to Jesus Christ.