2022 ~ Monthly Gatherings/Seminars
SATURDAY, SEPTEMBER 17, 2022
10:00 AM – 12 PM
PART 2
THE MINISTRY OF DELIVERANCE WORKSHOP
"An Anointed, Encouraging, Powerful, and Bible-based Prophetic Session"
BREAKING STRONGHOLDS, PATTERNS & CURSES.
"For our struggle is not against flesh and blood, but against the rulers, against the authorities, against the powers of this dark world and against the spiritual forces of evil in the heavenly realms" (Eph. 6: 12).
(Please register below to receive the login information.)
This session is designed to equip believers, stir up the prophetic in them and enable them to develop a strong prophetic "ministry" in their vocation.
Have you been involved in deliverance or a healing ministry? Have your encountered situations where there is a need for deliverance?
We have been given authority over evil through the power of the Holy Spirit. Thus, it is vital that we as Christians and intercessors understand what this aspect is all about in order to minister effectively.
Deliverance is a very common and important aspect of the healing ministry.
Explore the distinct difference between possession, oppression and infestation.
Explore your potential power in Jesus Christ.

Explore ALL that He has made available to you!
We cordially invite you to join us as we explore the work of the Holy Spirit in our lives and tune our hearts with our Creator and King!
DATE:
Saturday, SEPTEMBER 17, 2022
LOCATION:
VIRTUAL via ZOOM – (REGISTER BELOW FOR LOGIN INFORMATION)
PRESENTER:

MINISTER CHRISTINA SHANNON
COST:
FREE TO ALL
(We ask that you donate to the Ministry to further the work of the Gospel. Thank you.)
Come, join us as we worship the Lord in the beauty of holiness!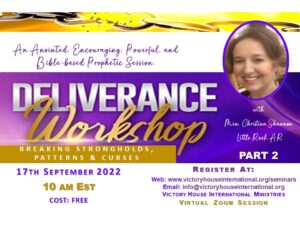 Plan to be blessed again and again. God Bless you as you seek His face.
We believe in training and empowering you to love and serve Jesus!
COME, WORSHIP THE LORD WITH US, AND BE BLESSED!
Your ministry donations will help support VHIM's core mission to further advance the Kingdom of God by training and equipping the Body of Christ, and will aid in supporting missions outreach work.
OR
OR
MAIL YOUR DONATION TO: VHIM, Inc.
1 Union Avenue #873
Bala Cynwyd, PA 19004