2022 ~ Monthly Gatherings/Seminars
SATURDAY, NOVEMBER, 2022
10:00 AM – 12 PM
SESSION:
"CELEBRATE THE GOODNESS OF GOD"
"An Anointed, Encouraging, Powerful, and Bible-based Session"
BREAKING STRONGHOLDS, PATTERNS & CURSES.
"I will meditate on the glorious splendor of Your majesty, and on Your wondrous works. Men shall speak of the might of Your awesome acts, and I will declare Your greatness. They shall utter the memory of Your great goodness, and shall sing of Your righteousness." Psalm 145:5-7
(Please RSVP below.)
Have you experienced God's Goodness?
Scriptures such as Exodus 20:6 and Psalm 145:5-7 tell us of God's everlasting kindness and compassion upon us and God's good deeds toward His people. From the time of creation and beyond,
God shows His "checed," which means "covenant loyalty" towards us. His
acts of love and protection abound toward those who love and trust Him.
God extends lovingkindness to us. He gives us mercy, favor, and kindness when we least expect or deserve it. His lovingkindness is shown to us every day. We experience it through the new chances He gives daily, the opportunities presented to love others, His unconditional love, and His consistent promises. His love for us never fails!
As we approach this year's end, we invite you to join us as we share about the goodness of our God!
You will be uplifted and encouraged!
DATE:
SATURDAY, NOVEMBER 19, 2022
LOCATION:
VIRTUAL via ZOOM – (RSVP BELOW)
PRESENTER:

MINISTERS WALTER AND DOROTHY SHERRILL
COST:
FREE TO ALL
(We ask that you donate to the Ministry to further the work of the Gospel. Thank you.)
Come, join us as we worship the Lord in the beauty of holiness!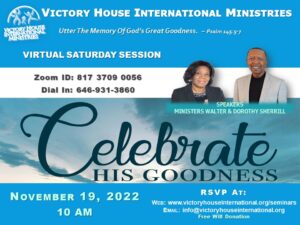 Plan to be blessed again and again. God Bless you as you seek His face.
We believe in training and empowering you to love and serve Jesus!
COME, WORSHIP THE LORD WITH US, AND BE BLESSED!
Your ministry donations will help support VHIM's core mission to further advance the Kingdom of God by training and equipping the Body of Christ, and will aid in supporting missions outreach work.
OR
OR
MAIL YOUR DONATION TO: VHIM, Inc.
1 Union Avenue #873
Bala Cynwyd, PA 19004